The Best Dog Walking Calgary Start Here
Highly Trained, Reliable, Loving Dog Walkers in Calgary City
Best Dog Walking Service In Calgary
If this is your first time getting someone to walk your dog for you, you'll discover that finding the best dog walker in Calgary is a daunting process. You have hundreds of dog walkers to choose from. So many yet only a few know how to get the job done.
Our company might be one of the best. We strive to provide clients. assurance; and their pet's comfort. Professional dog walking service shouldn't just be plain walking. It must also have additional perks too! We're a top performer since we believe in this.
So come now and allow us to walk your dog now! Whether it's well-trained or needs more grooming, we'll make sure that your dog experiences a safe and fun walk.
How Do We Make Dog Walking Better?
Dog walking Calgary may look deceptively easy. But this is only the case for dog walkers who are only operating for money. As for us, we have a heart for the job. Redefining the dog walking service in Calgary city is our primary goal. So what sets our service from others?
When it comes to staffing, our company cares about training. However, we also look for individuals who truly have a passion for dogs.
Our staff consists of highly passionate individuals about dogs. They will not think twice about providing the best service out of goodwill. With our staff, know that your dog is with people who live not only for themselves but for the love of dogs as well.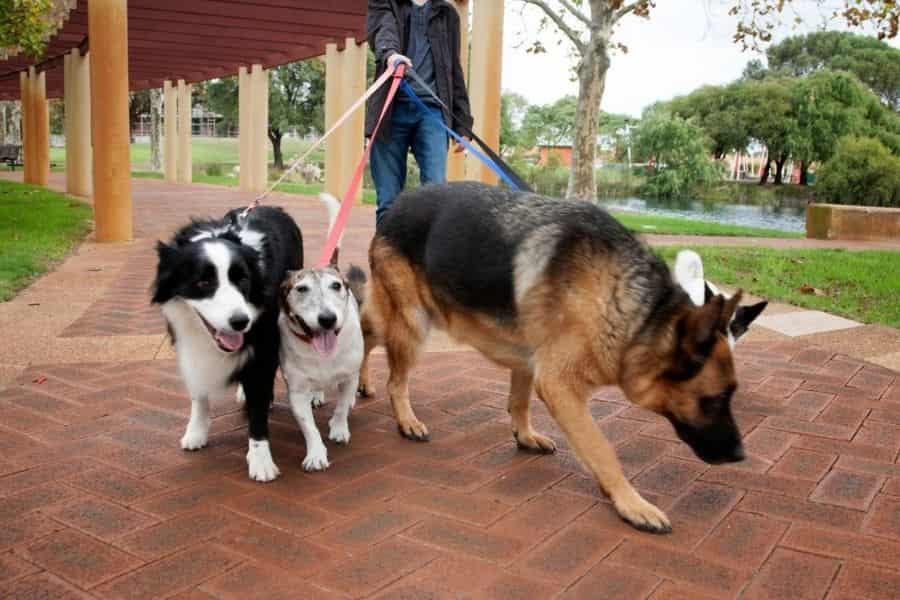 We Pick The Best Leash Parks for Your Dog
Our dog walking service in Calgary is different from others because we customize walking to cater to the needs of your dog. We train our personal dog walkers to find leash parks that best serve the dog assigned to them for walking.
Simply put, our dog walking Calgary allows your dog to walk in a location that makes it happy and contented
We train our staff to observe due diligence and caution while walking your dog. However, unforeseen accidents can happen.
We see this possibility, and that's why we equip our staff with numerous skillsets related to emergency pet care.
Why Choose Us For Dog Walking in Calgary?
Expats, tourists, and residents call and request our humble office to take their dogs for a walk in Calgary city. So what makes our business attractive? We don't know for sure. Nevertheless, we suspect that Calgarians choose us because…
The personal dog walker, who we assigned to walk your dog, aims to build a connection with your Dog. He or she doesn't walk the dog as a substitute. Instead, we trained him or her to treat the client's dog as one of his own. During the walk, these are some of the things that a personal dog walker from our company might do to bond with your dog:
• Play with it
• Provide it with health-friendly treats
• Protect it from attacks of aggressive dogs
• Talk to the dog
Dog walking Calgary services prices is never cheap. In Calgary, hourly rates for a dog walker start at $20/hour CAD minimum. Additional costs are then incurred depending on the type of walk and the number of dogs.
So how do we exceed expectations? We accomplish it through these crafty ways:
Why Need Walking For Your Dog?
Walking makes your dog happy. By doing it, your dog gets the chance to explore and see different sights. Dogs have a highly adventurous nature. That's why staying in one place for a long time affects their mood heavily.

But aside from your dog's mental health, walking also helps with its health too. Walking burns excess cholesterol that your dog gets from eating too many treats. It even helps to prevent canine health issues such as :
• Obesity
• Cardiovascular disease
• Osteoarthritis
• Low stamina levels
• Insulin resistance
• Liver disease
As you can see, walking has a lot of benefits for your pet. Opt to call us now! We're waiting for you. Allow us to make your pet healthy and happy.
Most Trusted Dog Walking Calgary
Walking a dog is a day-to-day thing in Calgary. That's why if you can't do it, then hire qualified professionals to do it if you don't have the time. Our company is reaching its hands to you. We take your dog for a walk so that it stays to be the adorable pooch that you've always loved.